Singer, Songwriter and Speaker!
Blind since birth, Rusty inspires others with stories, songs, and his optimistic way of approaching life.
Offerings
Custom Music
Weaving Melodies, Telling Your Story.
Public Speaking
Captivating Audiences, Inspiring Minds.
Performances
Energizing Moments, Unforgettable Experiences.
Hundreds of original songs written
About Me
Acoustic Pop Artist
I released my first album in 2011 and continue to write and record. Listen to my music on your favorite streaming service.
Film and TV music
Some of my music has been used on CBS's "The Young and the Restless" and on TikTok promotional products. I am seeking other musical partnerships.
Custom Music
I've written hundreds of songs for my own clients and for Songfinch and Songlorious. I can write a special song for someone you love.
Public Speaker
I empower audiences through captivating keynote concerts, offering empowering tools, sharing personal triumphs, providing memorable entertainment, and leaving them with actionable steps for growth.Some Empowering Tales are mentioned below:
We're all Disabled So Get Over It
Some Love From Our Clients
"I highly recommend Rusty for your next event! He's funny, warm, engaging, and inspiring! Everyone loved having Rusty perform at a school event! He inspired us students to adopt a growth mindset. And the kids absolutely loved his stories about meeting his dog, Egret."
"Rusty is fantastic! His ability to work with tweens, teens, and adults is remarkable. His teaching style was easy for students to understand and implement. Working with Rusty was so easy we requested that he not only continue working with us but to be a speaker at our grand opening. The value that Rusty brings to the table is unmeasurable."
"Rusty brings a whole full positive energy to the stage performing this dog, sorry, performing with his guide dog, Egret. Rusty offers many life stories to encourage and uplift.
Thanks, Rusty and Egret!"
"Keep your face always toward the sunshine, and shadows will fall behind you."
– Walt Whitman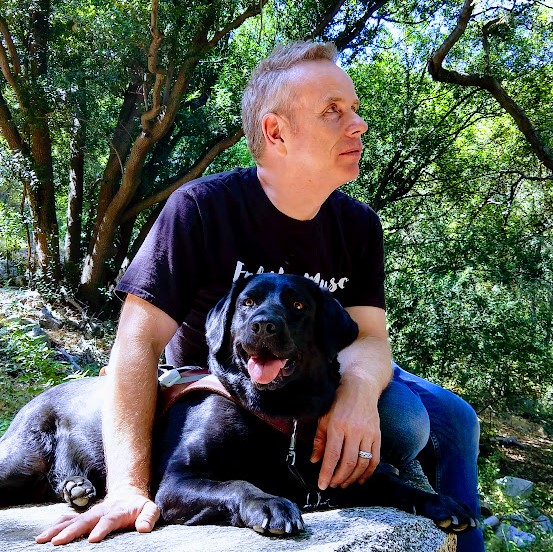 Have A Price For Every Plan Out There
$1000
Public Speaking and Keynote Concerts
Inquire for discounted pricing for nonprofits, educational institutions and other special situations.
An Engaging Journey of Empowerment through Storytelling, Music, and Insight
$200
Custom Music
Inquire for discounted pricing for nonprofits, educational institutions and other special situations.
Experience captivating melodies and thought-provoking lyrics in my soul-stirring original music