As a speaker, teacher, singer and songwriter, I've had the
opportunity to encourage and inspire many audiences.
Think of my presentation as a keynote concert.
I look forward to speaking at your next event.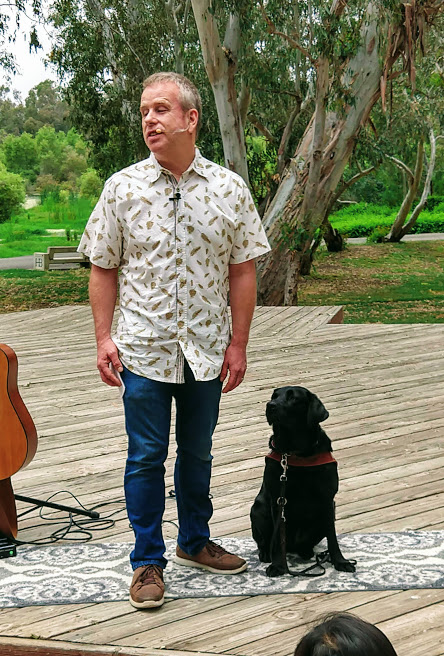 I will give listeners tools to walk through the darkness of self doubt and become more resilient.
Engaging and dynamic, Rusty Perez uses his life experience as a
blind individual to encourage audiences to overcome self-doubt
and find their own success.
With memorable stories, humor and original music, his message will
entertain, engage and amaze your audience. They will leave with
practical, actionable steps to move them forward after his talk.
Audiences find him intriguing
Rusty is often asked how he has overcome the limitations his blindness seems to impose. He holds nothing back, sharing stories and anecdotes generously; and answering questions honestly so that listeners will learn from him and confront their own challenges courageously.
"My passion is to inspire listeners to move past their perceived limitations and find success."
A Walk In The Dark:
Audiences will learn steps to build resilience and overcome adversity. I Teach through personal anecdotes, insights, and original music from the perspective of someone who cannot see what is ahead.
Life Is A Team Sport:
With stories, observations and original songs from my experience as a guide dog handler, I teach audiences to strengthen their "life team" through trust, empowerment, and motivation.
We're All Disabled So Get Over It:
Audiences will build self confidence as I share stories, personal insights and original songs which demonstrate how similar we all are In our imperfection.
Get in touch.
(951) 893-5205
Or send a message.